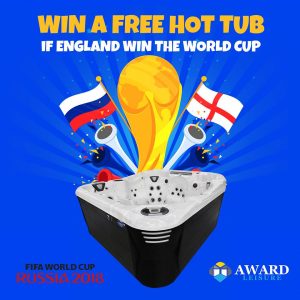 Who's PUMPED after England's win on Monday? If you're feeling confident, it could be a double whammy this summer for you. We are actually giving away a FREE Hot Tub… If England win the World Cup!
Buy a Hot Tub during the World Cup and get your MONEY BACK if England lift the trophy!!!
All names of customers who purchase during the World Cup, and while England continue to be in the running, will be entered into a prize draw and ONE lucky winner will be chosen to get their money back if England win the World Cup!
Terms & Conditions apply:
One entry per Hot Tub purchase.
Not valid on Swim Spas.
A minimum of 10% deposit must be paid on a Hot Tub for entry, and money back will only be paid once we have received full payment. Any cancellations will not be counted.
If England win details of the prize draw will be given after the final, which will be done live at Award Leisure's Warwickshire branch.
One winner only.
Who wants a FREE Hot Tub!!? ️