Last Friday we delivered and installed this gorgeous Hot Tub for Steve and Judy Richards who live in Sheldon, Solihull.
Steve and Judy came in-store after finding us on line and chose the beautiful Regency Baron Hot Tub.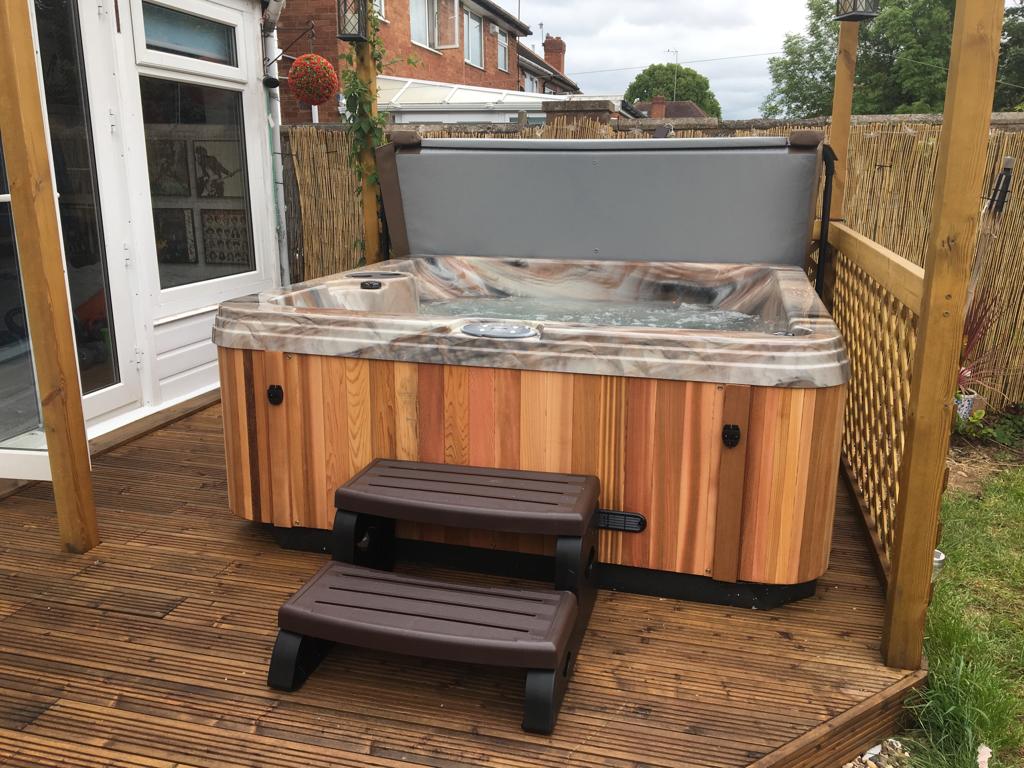 The Baron is available in a choice of different cabinet and shell colours. Steve and Judy decided on Tuscan Sun for the shell colour and Cedar for the cabinet and as you can see, it's a fantastic colour combo.
Steve and Judy had been thinking of getting a Hot Tub to place on a decked area in their Solihull garden for sometime. A friend of theirs recommended a company some distance away but they found us online and liked the fact that with us being in Hall Green, we were only 10 minutes away for them for servicing and chemicals etc.

We asked Steve and Judy of Sheldon, Solihull …why they chose Award Leisure Birmingham
We came in to your store and met Simon. We liked that he answered our questions, gave great advice and was not pushy in anyway, which is refreshing in this day and age with some of the stories you hear.

Simon offered to come out and conduct a free site survey, which we took advantage of and after initially looking at a smaller Hot Tub in the range…Simon reassured us that we could go for a bigger one and that there would be enough room for the cover lifter as well. We are so pleased that we went for the Baron as at 195 x 195 x 78 cm it is a great size and myself and Judy can really stretch out in it. We would definitely recommend Award Leisure Birmingham to our family and friends.

The installers were great, nothing was too much trouble and they took the time to go through how to test the water and use the chemical starter pack in great detail.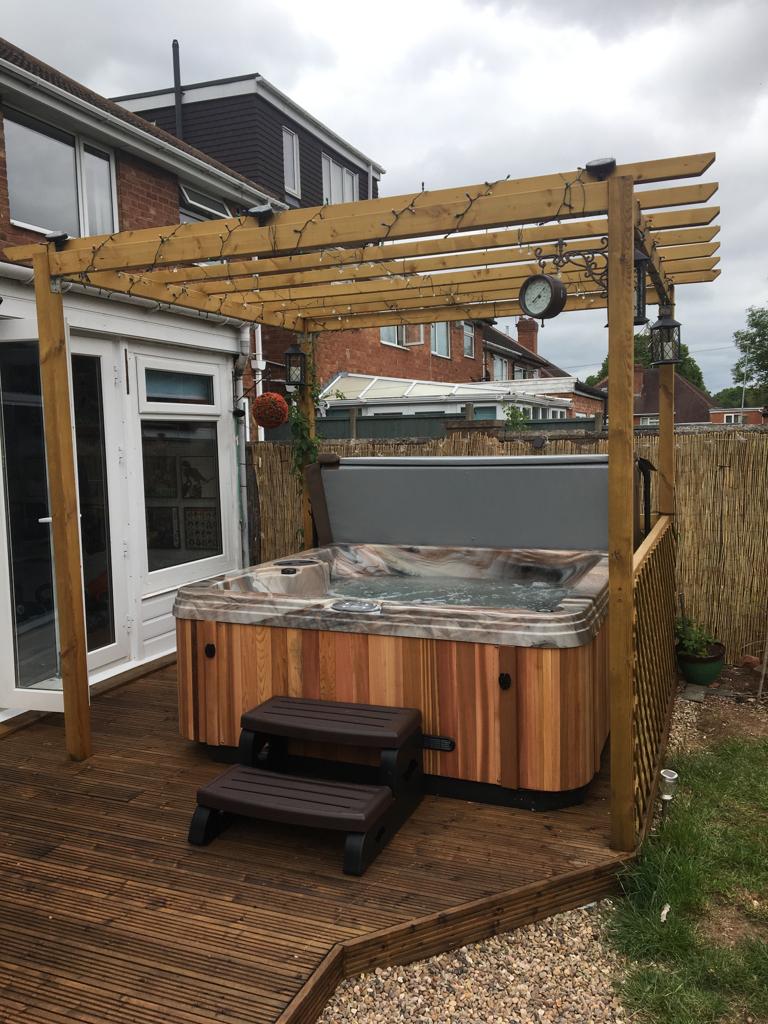 The Baron 5 person Hot Tub with lounger is ideal for a smaller patio and can be connected via a plug to a standard 13 amp supply. The Baron is our best selling Hot Tub.
There's enough room for all of the family with the bonus of a variety of high and low seating arrangements – the lounger seat is a spa within your own Hot Tub.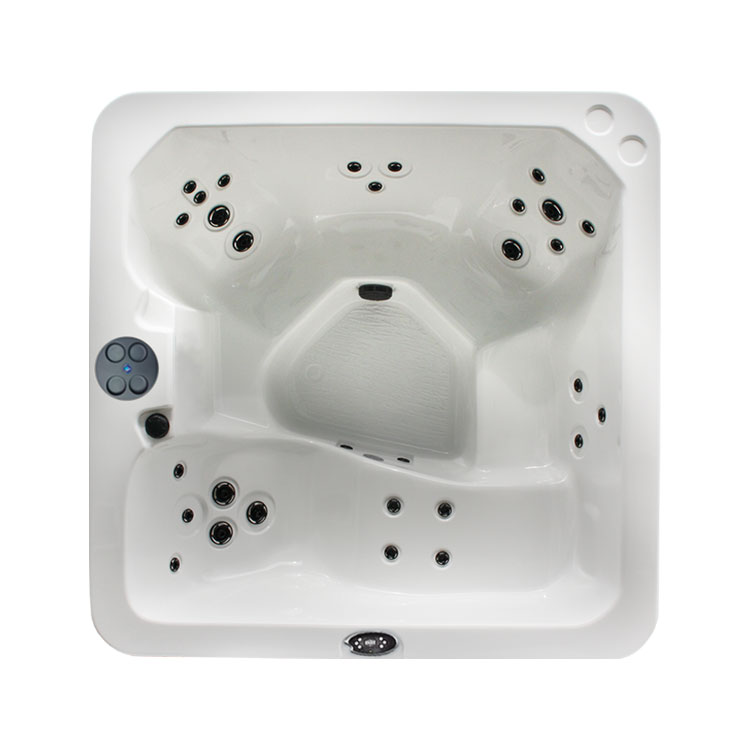 Check out this video to find out more about the Regency baron and why it could be the perfect Hot Tub for you.
https://awardleisurebirmingham.co.uk/hot-tubs-regency-collection-baron.php#collapseFour

The Regency Baron comes packed with features. It has 30 powerful stainless steel Hydrotherapy and adjustable jets, bluetooth with built in subwoofer, waterfall, underwater colour changing lighting….it really is your all-inclusive hot tub holiday of a lifetime – which you can enjoy every day, every year.
The Regency Baron has also been a WhatSpa Best Buy winner 3 years in a row! The Best Buy Awards acknowledge the Hot Tub models that excel across a range of criteria, including design and aesthetics, comfort and hydrotherapy and value-for-money.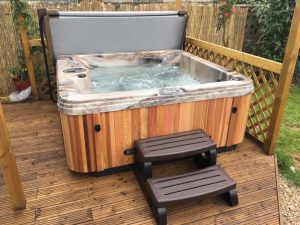 About Regency Spas
The Regency Spas Collection is specially adapted for the variable British climate and as well as offering beautiful designs, it offers the best in performance and energy efficiency. This means you can enjoy your new Hot Tub without having to worry about high electricity bills and tedious water management.
The Regency range is manufactures in Canada by Coast Spas who have over 20 years of experience, delivering the highest quality spas with exceptional performance to customers worldwide.
We are passionate about hydrotherapy and the life-changing benefits of owning a Regency Spas Hot Tub or Swim Spa. We are dedicated to making a difference in how your body heals, how you interact with loved ones and ensuring that we make a lasting impact on your life.
The Regency Spas Collection is handcrafted to the highest standards and built to withstand the harshest environments. As pioneers of Hot Tub innovation spanning over two decades, Coast Spas have defined the industry standard for the modern Hot Tub and are an industry leader in innovation and quality.
What are the benefits of a Hot Tub?
Reduces Stress
Decreases Joint Pain
Removes Toxins
Eases Muscle Aches
Improves Blood Circulation
Reduces Chronic Pain
Improves Mobility
Improves Sleep
Reduces Headaches
Elevates Mood
Reduces Blood Pressure
Relieves Cold and Flu Symptoms
Increases Metabolism
Aids in Digestion
Improves Cardiovascular Health
The combination of hot water, powerful massage jets and innovative engineering deliver the very best hydrotherapy experience to Coast Spas Hot Tub and swim spa owners. Our Hot Tubs are designed to optimise the significant health and wellness benefits that have been associated for thousands of years with bathing in hot water.
Live in Solihull, why not come and try before you buy
If you have never gone shopping for a Hot Tub before then you maybe thinking that taking a wet test is an unusual idea but it really is the perfect way to make sure that the Hot Tub is right for you.
Is it the right size or not? Are the jets powerful enough? How well do all of the additional features work? Is the noise level right? A quality Hot Tub runs very quietly.
Click the link and book your Wet Test today
https://www.awardleisurebirmingham.co.uk/book-a-wet-test.php