Susan Smith of Stirchley, Birmingham loves her new Baroness Hot tub 
We asked Susan why she chose the Regency Baroness Hot Tub and her thoughts on her experience with us here at Award Leisure Birmingham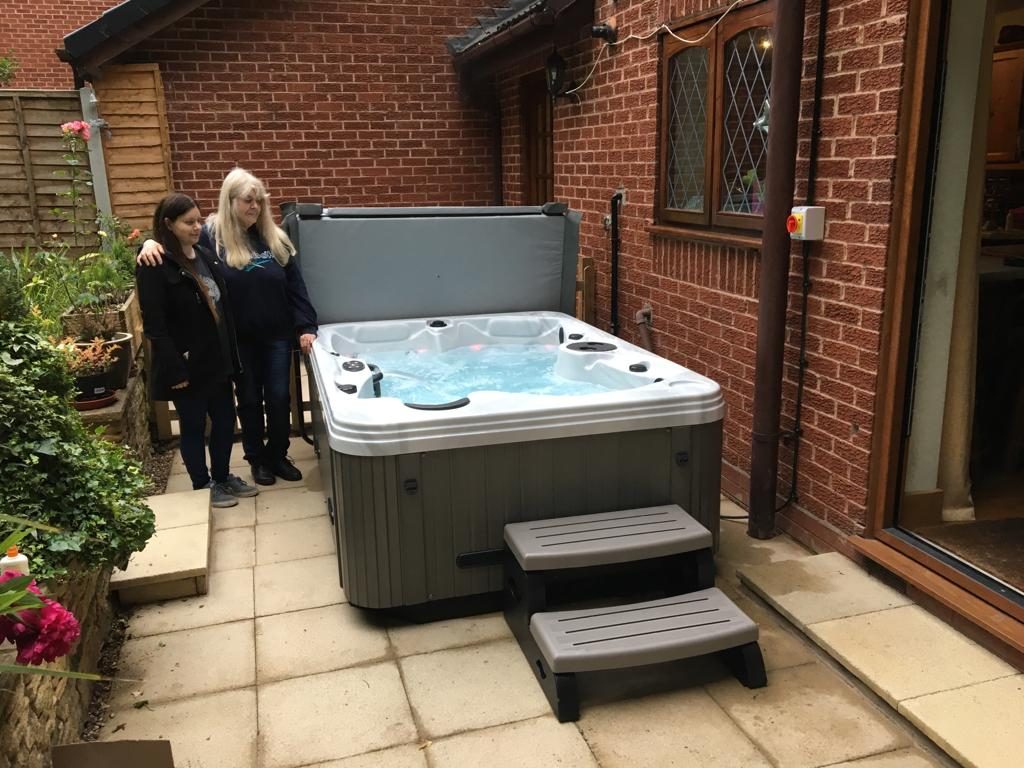 We had been thinking of getting a Hot Tub for some time as our garden is totally private. One of my daughters was especially keen so I started to research online and found that Award Leisure Birmingham was my nearest Hot Tub store.

As you can see from the photos, my patio area is quite narrow and so would not be suitable for a square or round Hot Tub. I saw the Baroness on your web site and checking the measurements knew straight away that it would be perfect for my patio area. Reading the specifications online, I could see that it was of excellent quality and so I decided to visit your store.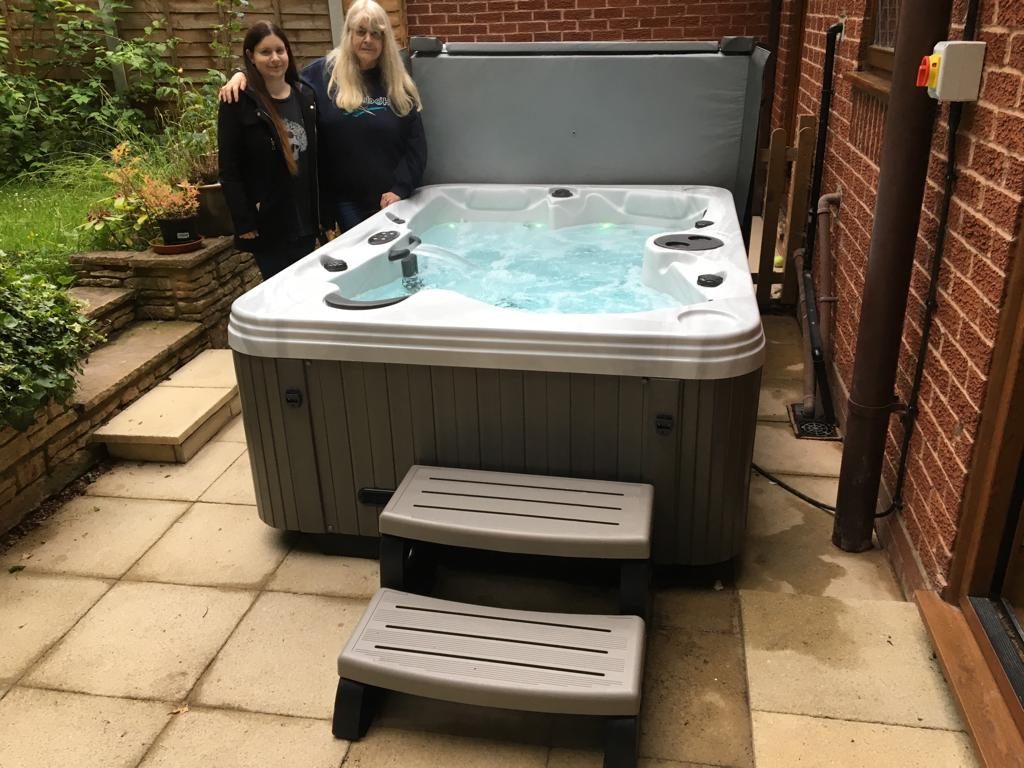 I must admit that I did leave the house with the intention of buying a Hot Tub but it could have been a different one, however when I visited your store and met Simon, I decided to go ahead and place the order straight away. I loved the quality even more seeing  the Baroness in your store and Simon gave me a great deal on the price. I also wanted Full Foam insulation to save on the running costs.

I have been visiting a chiropractor for some issues with my back and I read online that a spa can help. I have had slipped disks three times and since I have been using my new Hot Tub, I have really noticed a difference and I have not had pain since. As a family we are using a lot, on average three to four times per week.
The two chaps that came to install my new Regency Baroness Hot Tub were on time and spent around three hours here. They installed the Hot Tub, steps and cover lifter and took away all of the rubbish. I was left with a chemical starter pack and they took time to talk me through the water chemistry and how to look after my Hot Tub. I have been really happy with the service that I have received and would not hesitate to recommend Award Leisure Birmingham to anyone considering a Hot Tub.

Click here to read more about the health benefits of owning a Hot Tub
Why you should I consider the Regency Spa Baroness ?
The Regency Spa Baroness 3 person hot tub made in Canada, is ideal as a smaller patio hot tub. The Baroness is perfect if access to your back garden is limited and The Regency Baron is a 5 person hot tub with a lounger. It is ideal for a smaller patio and can be connected via a standard 13amp supply plug. The Baroness is a hot tub with a lounger that fits a variety of body shapes and offers neck reflexology as well as an all over powerful hot tub hydrotherapy massage. The other 2 deeper seats are perfect for shoulder, lower back, hip, leg and foot massage. This lower 3 seater hot tub will fit through a standard doorway and the lower profile design allows bathers to easily get in and out of the hot tub without steps.
With the best commercial grade hot tub filtration creating the cleanest hot tub water, this is an insulated hot tub with the lowest running costs. The Canadian spa with waterfalls and underwater lights creates an ambience that makes this the perfect solution to having your own spa in your back garden. The Baroness is the perfect hot tub for relaxing away from the crowds and brings excellence and first class living to your outdoor down time.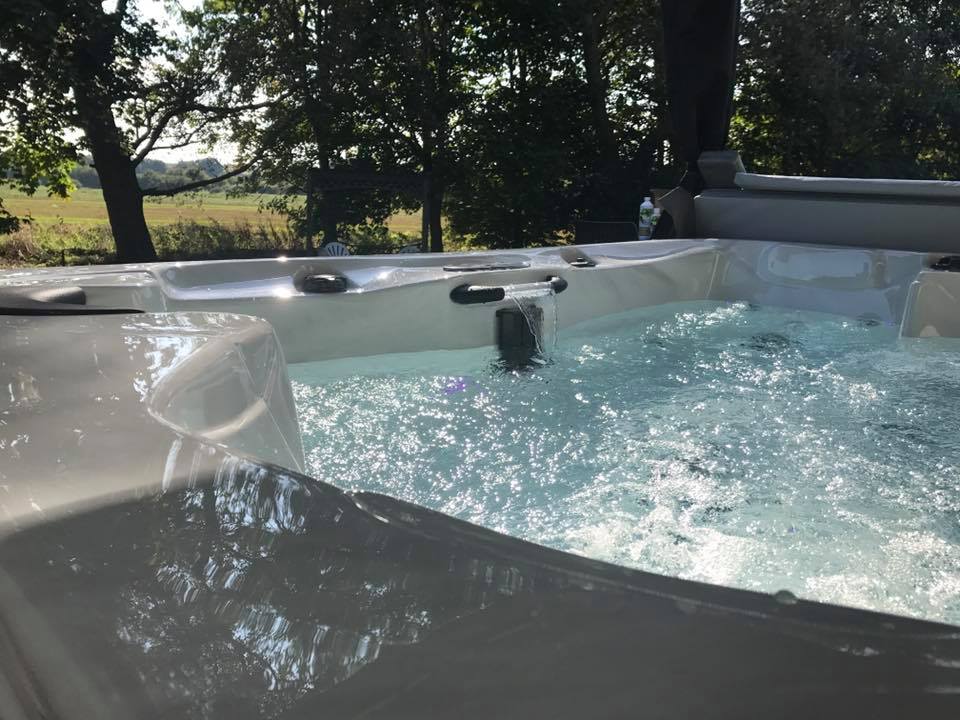 Click here for the Regency Collection by Coast Spas.  From this series you can choose from a Baroness, a Baron or Countess, all with 30 jets and designed exlusively by Coast Spas for Award Leisure to suit the UK climate!