Coast Spas Alpha Elite Hot Tub with 50 jets
We have just fitted this stunning Hot Tub with 50 jets for Mr and Mrs Crane in Bewdley.
What a beautiful installation! We love seeing and sharing pictures of Coast Spas Hot Tubs in their new homes. This garden is now definitely Summer Ready!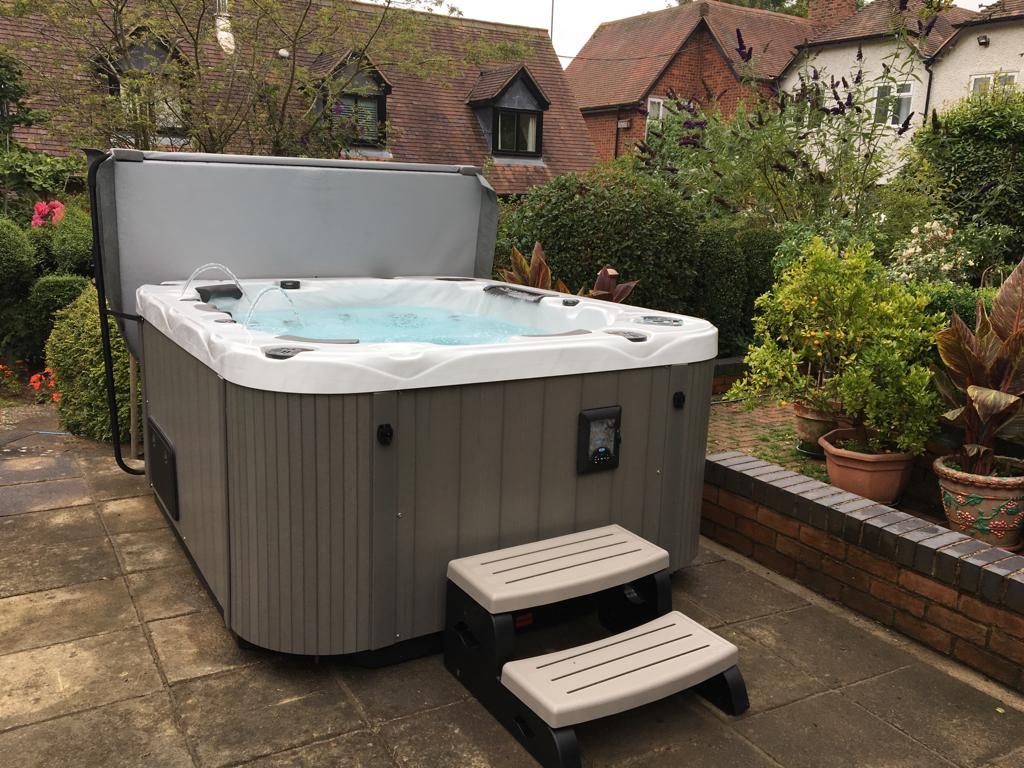 We asked Mr Crane to review his experience with us here at Award Leisure Birmingham…
My wife decided that she wanted a Hot Tub so I set about researching the market to find the best one available. If I decide to go ahead and purchase something then I want to make sure that I am getting the best product available and at the best price.

I did a lot of research online and pretty much decided that Coast Spas was the brand for me before actually seeing a Hot Tub. This saved me a lot of wasted time, visiting lots of stores.

I made the decision to choose Coast Spas on quality. I was impressed with the strength of the shell and the external filtration.

We visited your store and saw the Alpha Elite on display and I could see that it was a fantastic Hot Tub with all the bells and whistles in terms of features. Simon the business owner gave me a great price and I decided to go for it there and then.

The installation process was very smooth and I found your fitters very informative, providing me with a chemical starter pack and a care tutorial.

My wife loves her new Hot Tub and could not be happier. We will definitely recommend Award Leisure Birmingham.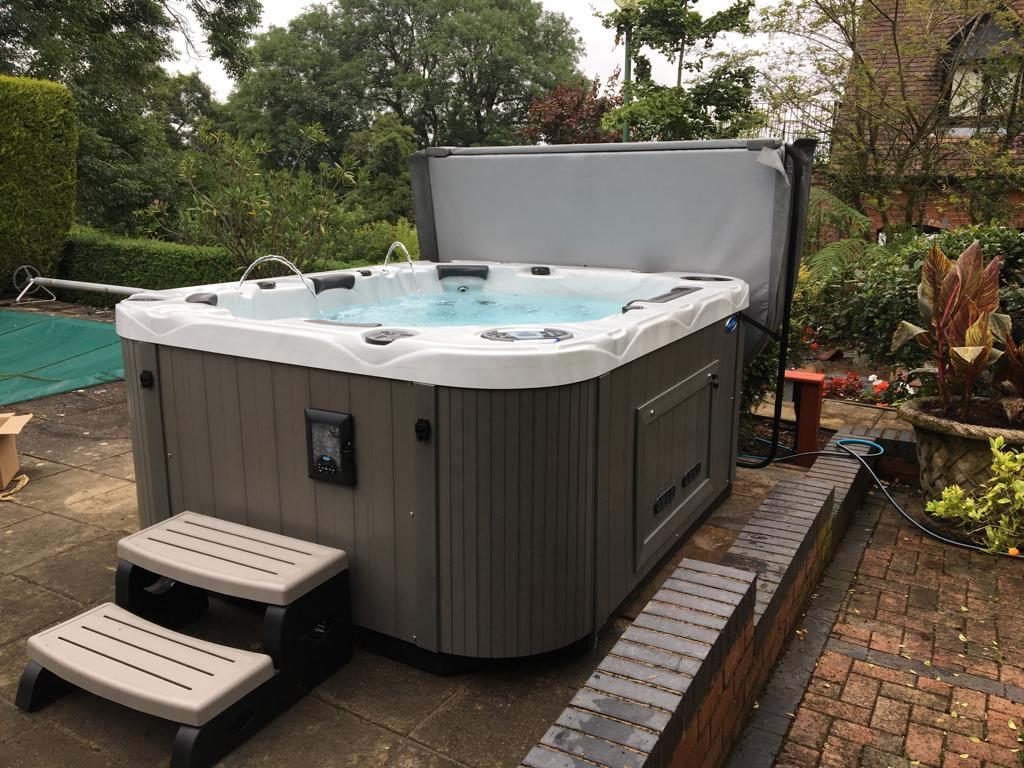 Why Coast Spas?
Our Traditional Spas feature the classic Hot Tub design that has been the popular choice of Spa owners since Hot Tubs evolved from their cedar-barrel predecessors. Traditional Spas come standard with our advanced Hydro Cyclonic Filtration System. This exclusive filtration system tests 83% faster and 20% more efficient at filtering spa water than skim filtration and is the only portable Hot Tub filtration system that is commercial grade.
In terms of value for money, Coast Spas are truly the best value for money Hot Tubs in the industry; as we are the UK distributor we can guarantee the best price but also a quality product! Coast Spas have been manufacturing Hot Tubs in Vancouver, Canada for over 30 years and focus on delivering and maintaining the highest quality standards and innovative exclusive features and designs. As a company we focus on providing luxury products and maintaining a high level of customer service for years to come. With any luxury product aftercare and running costs are key. Coast Spas have the best warranties in the business and have one of the most energy efficient types of insulation in the industry, meaning minimal running costs. You can of course buy cheap spas online but in the long term, as these spas are not made to the same quality and therefore do not pass industry quality controls standards, these types of Hot Tubs will cost you a lot of money to run and to maintain. Therefore, you will find you are spending more on chemicals to keep the water clean, there will be more maintenance and, if it is not a branded product, parts for the spa will be extremely hard to get hold of. With Hot Tubs starting from £4,095 we have something to suit all, and do not compromise on quality or performance.

So grab your friends and climb in. With luxurious cabinets and acrylic shell, you can't get anymore stunning than this. Relax after a long day and enjoy the luxury of hydrotherapy from 50 jets.
There is a perfect spot for everyone to sit, or have some quiet time alone. With lots of add ons available, your Coast Spas Hot Tub can be everything that you ever wanted.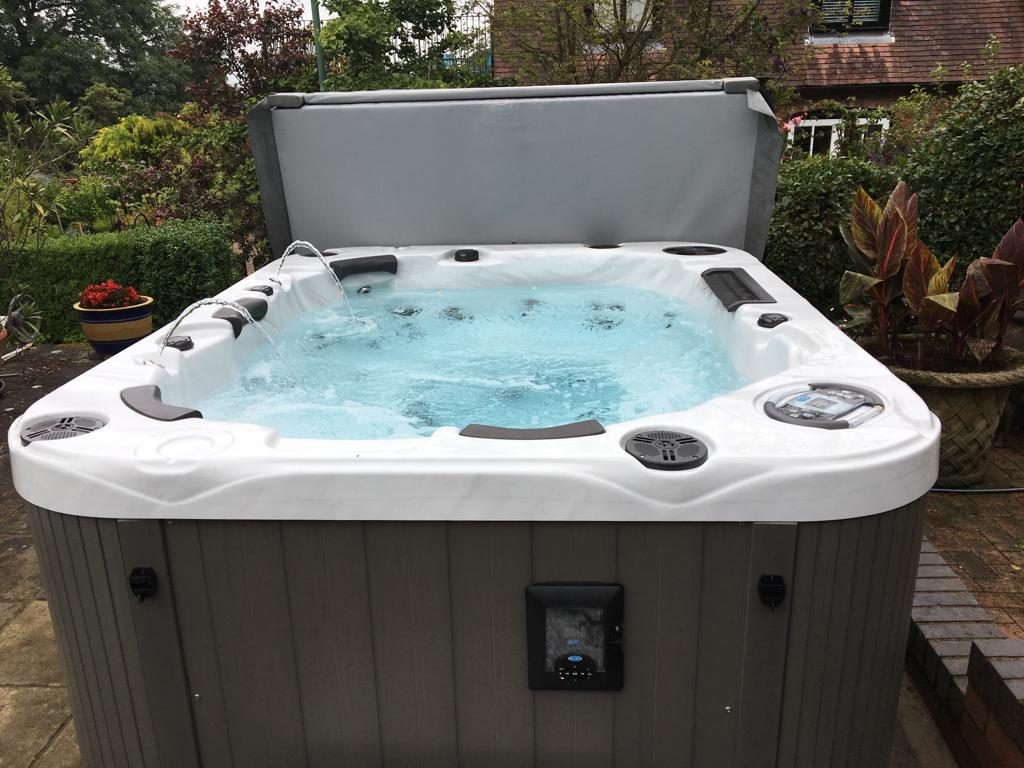 ALPHA ELITE 50
The Alpha is an all seated spa which has been designed especially, so that there is a different massage in every seat, With our luxurious 'chaise lounge' seat bathers can choose to either stretch beneath the water or share this seat with friends and loved ones. The Alpha is perfect as a social hub and for high quality hydrotherapy.
Seating Capacity: 7 Adults
Jets: 50
Dimensions: 229 x 191 x 102 cm
Pumps: 2 x 5BHP SF
Why was Mr Crane so impressed with the Shell on his Coast Spa Alpha Elite 50 ?
Coast Spas® has partnered with Owens Corning® to Deliver the Toughest and Most Durable Hot Tub Shells Available.
Your hot tub starts its life as a sheet of premium acrylic. It is then heated and vacuum-formed to take on the shape of a hot tub, at this point the acrylic is fragile and flexible. The acrylic shell is then moved to be reinforced using high-grade Owens Corning® fibreglass. A team of specialists start by applying several layers of fibreglass to the shell, then use rollers to compress those layers together. Steel angle iron is then placed onto those first compressed layers for additional support in specific structural areas. Additional layers of Owens Corning® fibreglass are then added (up to 12 layers or more are typical for an average-size Coast Spas Model) and compressed again, by hand, to complete the shell.reinforcement.
WHY DOES SHELL STRENGTH MATTER?
Your Hot Tub or Swim Spa shell is not just one of the most expensive components of your spa, but also the only piece that can never be replaced. If your hot tub cracks, there is no real avenue for structural repair – and your hot tub will no longer be able to be used. Your spa shell is responsible for containing a large volumes of water that has a significant amount of weight. This weight is constantly applying immense pressure to your shell and its integrity has to hold even when faced with environmental fluctuations in temperature and humidity. Ensure your next hot tub has the strength and durability of multi-layer Owens Corning Fibreglass and steel reinforcement.