Coast Spas Luxury Apex 65 Hot Tub
Last Thursday we delivered and installed this Luxury Apex Hot Tub with 65 jets for Steve and Kate Keeling of Dudley.
As you can see from the photographs it is a stunning Hot Tub and Steve and Kate have made an excellent choice in choosing the Premium Coastal Smoke cabinet with carbon fibre photocell light corners to compliment the Storm Cloud grey shell.

We asked Steve to tell us about his experiences with Award Leisure Birmingham from his initial contact through to using their new Hot Tub for the first time.
We had decided to completely renovate our garden. This included landscaping, decking and an outdoor cooking area.

My wife and I had previously bought a blow up Hot Tub to see if the experience of using a Spa would be something that we would enjoy and use regularly. We loved the Spa experience and so decided that we would invest in a quality Hot Tub and started to research what was available, initially, online.

I saw Award Leisure Birmingham was local to us and so looked at their website and found out more about Coast Spas. I was impressed with the quality of Coast Spas and the fact that they seemed to have so many unique features. I could see that they were head and shoulders above a lot of the other brands online.

The day we visited the showroom of Award Leisure Birmingham in Hall Green we had been to two other Hot Tub Showrooms in the local area. I won't mention names but the one sales guy at another showroom came over to me as a wide boy, full of sales patter, I found him quite high pressure and it switched me off straight away.

Simon at Award Leisure was completely the opposite, no sales puff, he just answered my questions. As soon as I saw the Luxury Apex on display in the Hall Green store, I knew it was the one for us as it had everything. I would describe it as all singing…all dancing…with music, lights and packed with jets.

Simon gave us a great deal and we placed our order. The service has been great, Simon came out and completed a site survey to make sure that the access was ok. The fitting date arrived and the installers arrived on time and were really helpful. They set up the Hot Tub, filled it and gave us a chemical starter pack, along with training on how best to care for our new Hot Tub. They took all the packaging away and left the area pristine.

We have used the Hot Tub everyday since it was installed and it is so nice to come home after a long day and have a relaxing soak.

We would not hesitate to recommend Award Leisure Birmingham and the Coast Spa range of Hot Tubs.
Why Choose the Apex Luxury L65?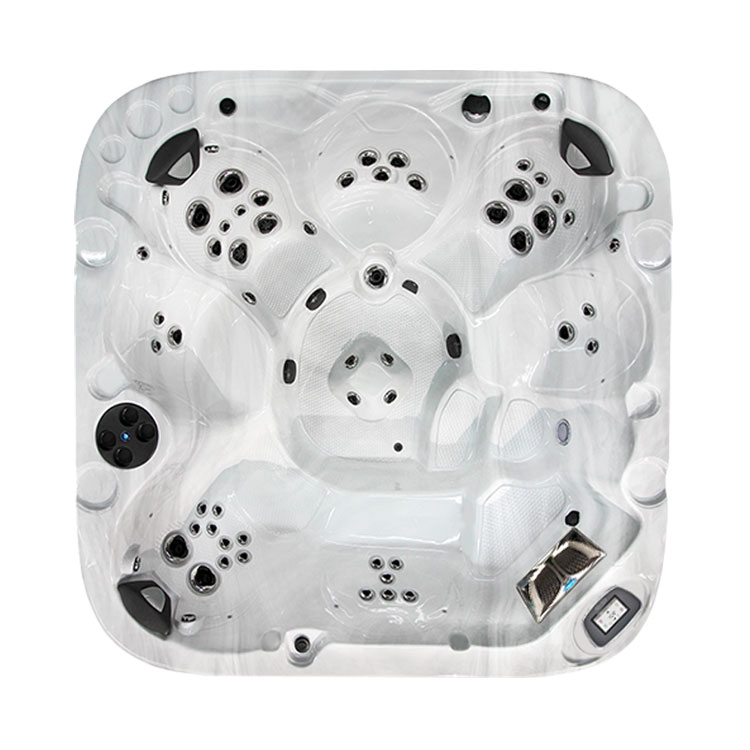 The sophisticated and curve-linear Apex will dazzle you. The Apex is the largest Spa of its kind to have 7 seats and a lounger. There's body contoured seating all around which offers maximum massage effect. The addition of non-slip 3 tier steps helping you into the seat also offer cool down seats which double up as higher seating for smaller bathers. The 2 Aqua massage seats offer neck massage and wrap around hydrotherapy with no compromise.

We are also currently offering a FREE PACKAGE UPGRADE WITH THIS HOT TUB WORTH £ 3730
SPECIFICATIONS
Dimensions: 234 x 234 x 101.5cm
Jets: 65 Luxury Trillium SS Jets
Pumps: 3 x 6BHP SF Pumps
Volume: 1496 Litres
Hydro Cyclonic Filtration: 175 Sq Ft
Reinforced Shell with Owens Corning Fibreglass
Coast Guard Shield Bottom
Self Cleaning Sweeper Jet
Volcano Jet and Diverter Valve
Shiatsu Massage Nodules
Anti-Slip Textured Floor
Quick Access Equipment Door
Smartphone Remote Control Compatible
Laminar Lit Waterfalls
Luxury Lit Touchscreen Control Panel
Luxury Pillows / Neck Jets
Steel Reinforced Spa Acrylic
Excellent customer service is also an important part of why so many people choose Award Leisure Birmingham
As your local West Midlands and Worcestershire Coast Spas Hot tub supplier, we can help answer any questions that you have and help you choose the right hot tub for you.
Get in touch today to find out more: