Are you thinking about getting a Hot Tub?
We have just fitted a Cascade Series Spa for Tom Franklin in Shard End, Birmingham. The cascade is part of the Coast Spas, Infinity Series. It is a spectacular Hot Tub ….with the 2 LED lit trickling accent waterfalls to either side of the beautiful patented vanishing edge.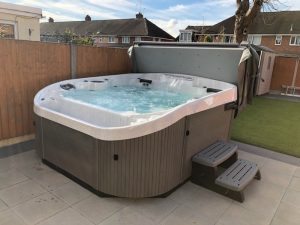 We asked Tom to give us feedback and to tell us how he was getting on with his new Hot Tub……….
"I had been thinking about sorting out the garden and getting a Hot Tub for some time and Simon at Award Leisure was brilliant when I popped into the Hall Green showroom, he gave me such a great deal, I decided to go for it there and then and pulled out all the stops to get the garden ready."

"I have 5 children and a big extended family so they love it…..my sisters have visited along with many friends…..yesterday we had a barbecue and Hot Tub Party…it's brought us all closer together."
We asked Tom… How likely are you to recommend Award Leisure?
"Definitely, I'm sure that some of my friends will be in to see you soon. Simon was brilliant from start to finish, nothing was too much trouble. he popped over to advise on access and electrics and the two fitters were brilliant, even staying to talk us through how to look after it etc."
"I genuinely think that I got great value for money, especially with Simon giving some extras for having it straight away…..it motivated me to sort out the garden…..now I can sit back and relax."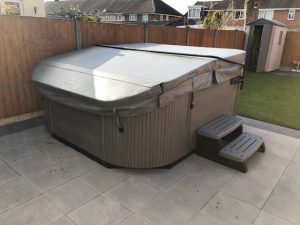 https://awardleisurebirmingham.co.uk/coast-spas-cascade-hot-tubs.php