We have just installed this stunning Coast Spas Hot Tub for Dave and Kelly McGill who live in Knowle, Solihull.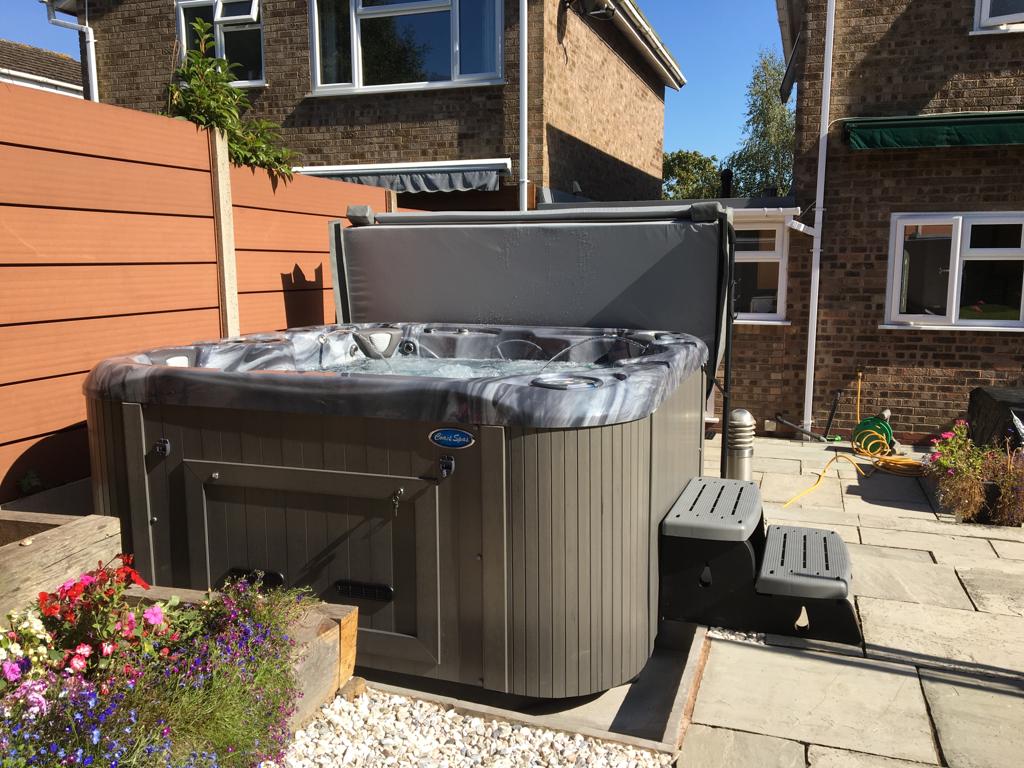 Do you like what you see?
Check out special offers available and your local Award Leisure Showroom supplying Coast Spas to Solihull. We have Hot Tubs starting from only £3995.
https://awardleisurebirmingham.co.uk/hot-tubs-solihull.php
We asked Kelly to kindly give us a review of her experience, from initially Hot Tub shopping, to choosing who to buy from, through to installation and finally using her new spa.
We have never had a Hot Tub before but have been on holidays with friends and we have always chosen a destination with a Hot Tub. We have finally decided that now is the time that we want a Hot Tub at home to enable us to make the most of our family leisure time along with the hydrotherapy benefits and socialising with friends.

Not knowing where to start, we initially went online. We then visited a couple of different Hot Tub stores and then visited Award Leisure Birmingham in Hall Green. I really liked the location of the store, being so close to us in Solihull. I prefer to deal with someone local as I know then that I can pop in and always get quick service.

Simon was very helpful and friendly. I knew straight away that the Coast Spas range was top of the range as they just looked so much better than anything else that I had seen. We looked at two different Hot Tubs and then went away to think things over. We did then visit another Hot Tub store in Stratford upon Avon but as we were looking at the Hot Tubs, no one bothered to come out and speak to us and so we left.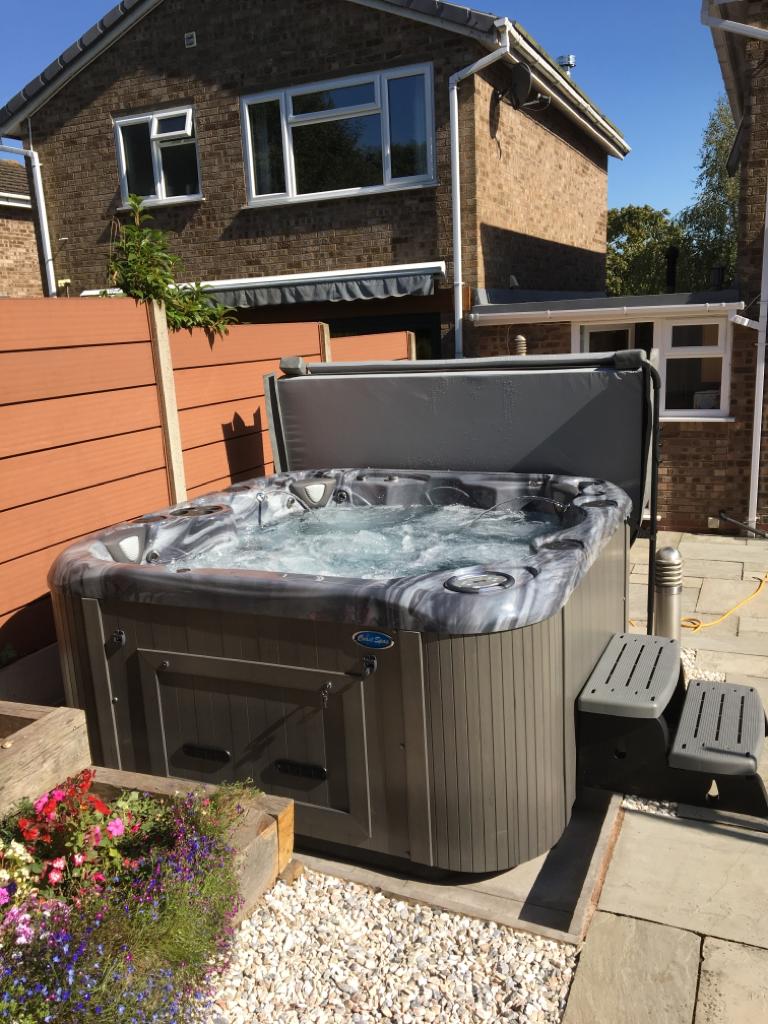 When we sat down and looked at all the information we had gathered, we knew that Coast Spas was what we wanted and we booked a Wet Test at the Hall Green Store.

We chose Coast Spas because I love the look of them, the Storm Cloud Grey shell looks stunning and I wanted Full Foam Insulation as I know that in our climate it will save me so much money in the long term on energy bills.

Simon, the owner of Award Leisure Birmingham was brilliant. He recommended us someone to lay a new patio for us and sorted out a crane to get the Hot Tub into the back garden. As you can see from the photos, the landscaper Simon recommended did a great job. We have been really happy with it all.

When it came to installation, all appointments were kept and the installation guys were great. They spent time showing me what to do with the chemicals to maintain the water and left me with a chemical starter pack.

We chose the Elite Element with 50 jets and Simon gave us a great deal. I have already recommended Award Leisure Birmingham to friends and family and I will continue to do so. Thank you Award Leisure.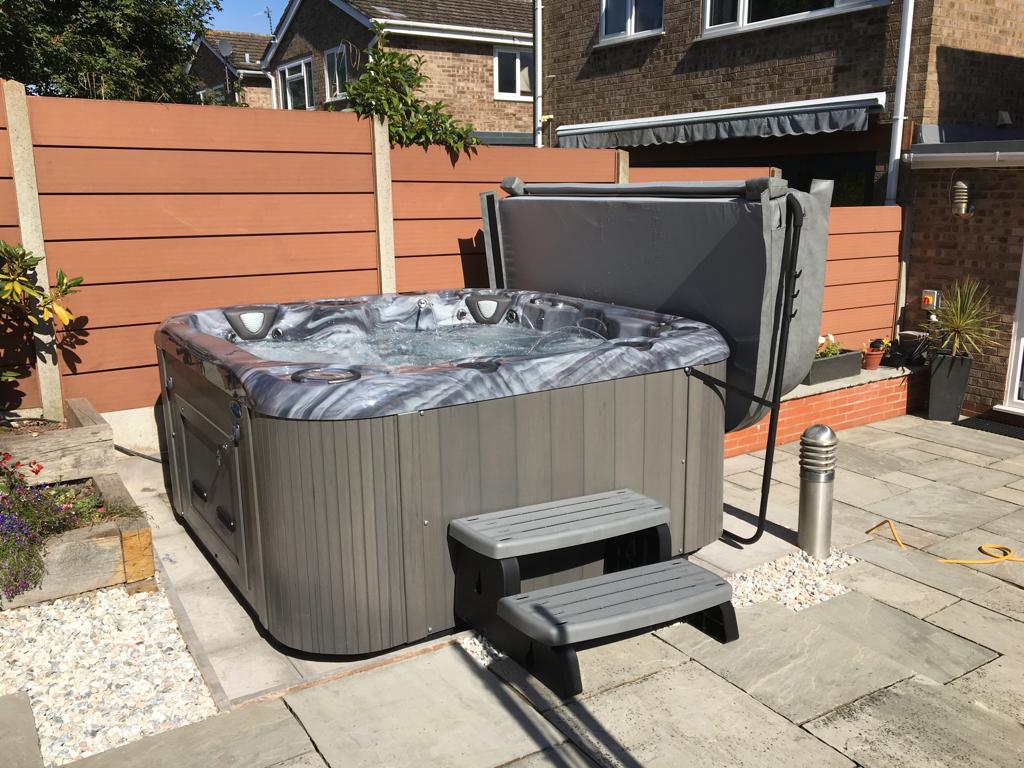 Coast Spas Elite Element
The Element B has the latest innovation with contemporary curve-linear design both inside and outside the spa. The newest hydrotherapy spa in the industry has been designed with unique textured steps in and out of the spa and 7 impressive massage seats to out perform it's competitors and to stand apart aesthetically from any other spa in the market.