Are you looking to upgrade an old Hot Tub? Read why Jayne an experienced Spa owner in Aston Cantlow near Stratford upon Avon decided Coast Spas was the right choice when choosing to upgrade her old Hot Tub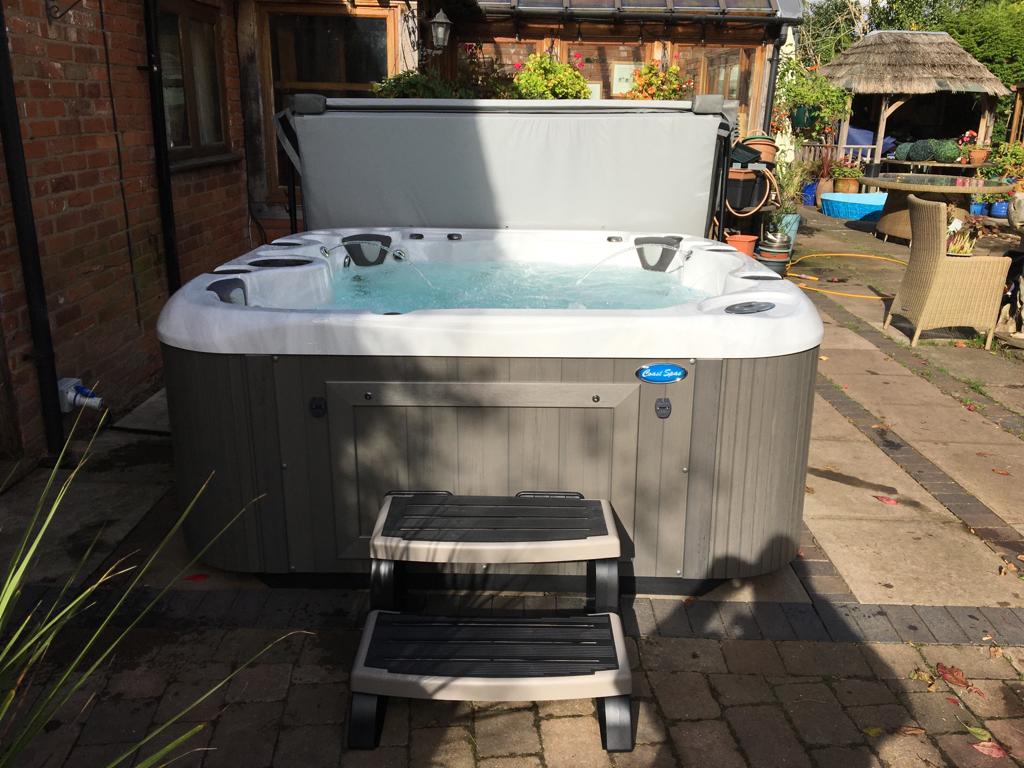 We have recently installed this beautiful Hot Tub for Jayne Tullet in Aston Cantlow near Stratford upon Avon. Jayne chose the Coast Spas Classic Element with a lounger and 50 powerful jets. The award winning Element Lounger has won every innovation and performance award to date. With contemporary curve-linear design both inside and outside the spa. This luxurious hydrotherapy spa has been designed with unique textured steps in and out of the spa and 6 impressive massage seats. In particular, the body wrap lounger has been designed with ultimate comfort and superior performance in mind. The Element stands out aesthetically and out performs all of the competition.

Lets hear from Jayne:
I have had an old hot tub for 10 years. It had a good innings but it needed a new cover and some repairs and looking at it, I decided that it would be a better investment to upgrade and spend the money on a new Hot Tub.

I was so impressed with the Coast Spas range which oozes quality. I wanted to invest in a Hot Tub that would last another ten years or more.

I use it regularly and am happy with prior arrangement for local people in the Stratford upon avon area want to come along and see rather than initially go in to the Birmingham show room. I recommend Award Leisure Birmingham.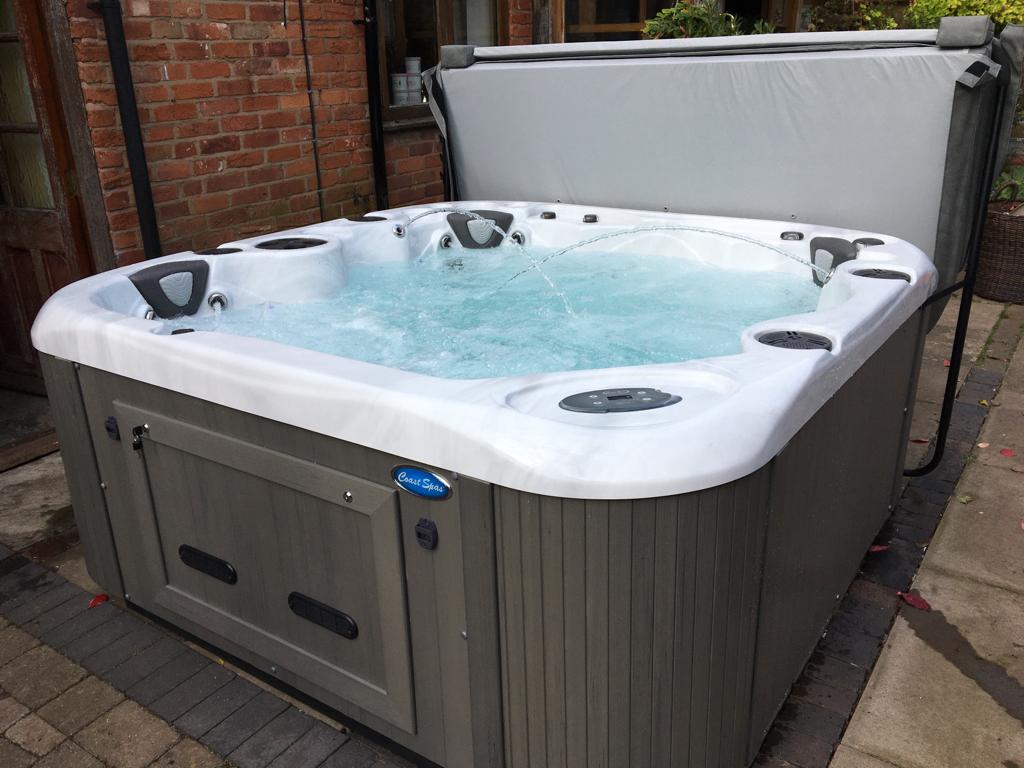 Are you thinking of selling your old Hot Tub?
Forget going through the hassle of advertising your Hot Tub and dealing with the endless time wasters – sell your Hot Tub quickly and easily with us!
Hot Tub Trade-In
Just like trading in your old car for a shiny new one, you can trade in your old Hot Tub for a newer model.
You can get up to £1,000 towards the value of your new Hot Tub, depending on the age and condition of your model…..Getting rid of your old Hot Tub doesn't have to be stressful, let the professionals do it for you! With dedicated Hot Tub removal equipment and fully trained expert engineers, we (literally!) do all the heavy lifting for you, so you can enjoy the extra space in your garden or your shiny new Hot Tub!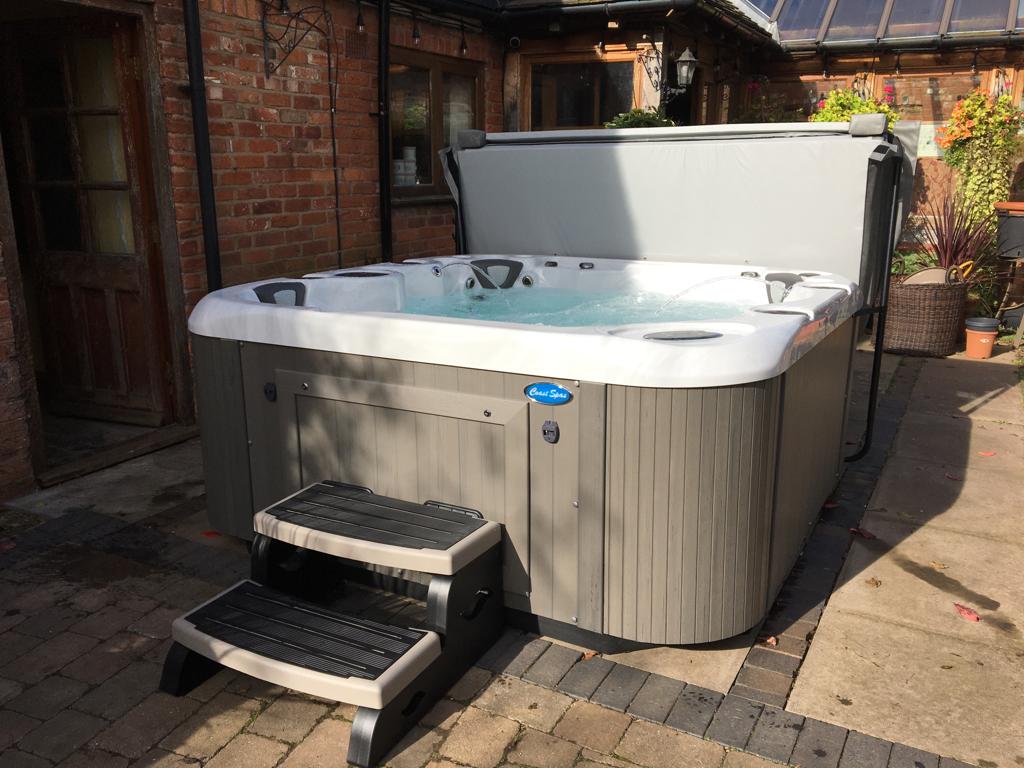 Why Award Leisure Birmingham ?
We are part of the Award Leisure group – one of the largest independent supplier, importer and installers in the UK for Hot Tub, Spas and Exercise & Hydrotherapy Pools. In addition to our Birmingham store we also have showrooms in Staffordshire, Cheshire, Warwickshire, Lincoln & London offering a wide range of Hot Tubs and Exercise Pools. At Award Leisure we take into consideration energy efficiency, appearance, hydrotherapy and performance, monthly chemical use, durability, maintenance, warranty, reliability and quality; so we can really sell with a passion and a sincere belief that we supply the best value for money, quality spas in the world. We know that one of the major deciding factors when buying a Hot Tub is the price you pay. We are completely independent and deal direct with the manufacturers, so there is no middle man, which is reflective in our pricing and five star service. 
Make today the day to come and see us:
Award Leisure Birmingham, 144 Highfield Road, Hall Green, Birmingham, B28 0HU or call 0121 3892758
Our opening hours are: 10 am to 6pm Tuesday to Friday, 10 am to 5 pm Saturday, 10 am to 4 pm Sunday, closed on Mondays.