Are you considering Hot Tub ownership in Worcestershire?
Since 1984 our name Award Leisure has been synonymous with quality, comfort, and innovation. We are constantly living up to our name by gaining top awards, while being recognised as a superior and trusted 'complete service' destination for hot tubs and outdoor products.
We are a Coast Spas and Regency Collection specialist and now have five showroom locations to cater for greater demand for quality hot tubs.
Simon in our Hall Green showroom caters for Worcestershire and we now have many happy Worcestershire Hot Tub customers. Check out our Facebook Page (AwardLesiureBirmingham) or Google Business Page to see what people say about our quality and service. We are proud to be achieving 5 out of 5 on both forums.
Here in our Hall Green showroom we provide wet test capability on both our hot tub range and swim spas…..relax with a coffee, prosecco or a beer and experience the bliss of sitting in a Coast Spas hot tub.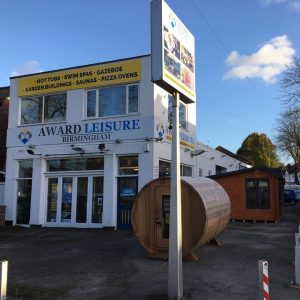 Award Leisure showrooms are currently leading the promotion of a tidal wave of incredible developments by Canadian Hot Tub and swim spa manufacturer Coast Spas.
Unique designs and state of the art technology, including a Commercial-Grade Hydro Cyclonic Filtration System are being showcased by Simon and his two sales assistants Clare and Charlotte.
With 'Interest Free' options over 3 years and flexible repayment terms of up to ten years, there has never been a better time to take the leap into Hot Tub ownership.
Visit our your nearest Showroom in HallGreen, click below for the address and directions.
https://www.awardleisurebirmingham.co.uk/contact.php