A review of the Regency Prince Hot Tub
We have just installed a Regency Prince Hot Tub for Phil Jennings in Kingswinford.
Kingswinford is a town located in the Metropolitan Borough of Dudley in the West Midlands.
We asked Phil to give us an appraisal of both his experience with Award Leisure Birmingham and his new Regency Prince Hot Tub.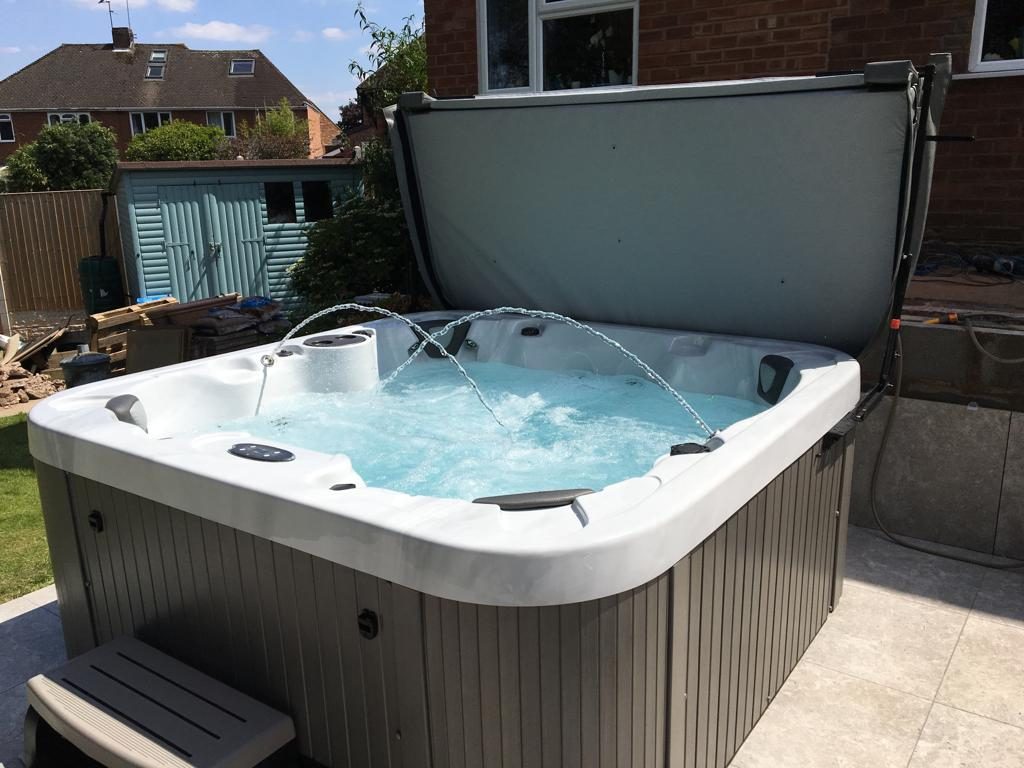 I am very happy with my Regency Prince Hot Tub. We had talked about getting a hot tub for years as I fit Kitchens, Bathrooms and Bedrooms and lots of my customers have a Hot Tub on their patio. One of my friends is an electrician and he said that the hydrotherapy benefits have been really helpful in tackling his back problems. As you can imagine years of fitting kitchens etc have taken its toll on my back and shoulders.

I did lots of research online in to Hot Tubs. I saw that the Regency Prince is a What Spa magazine winner and that got me researching Coast Spas in general. I liked the fact that they are made in Canada so much better for our climate than a cheap Chinese or American Spa.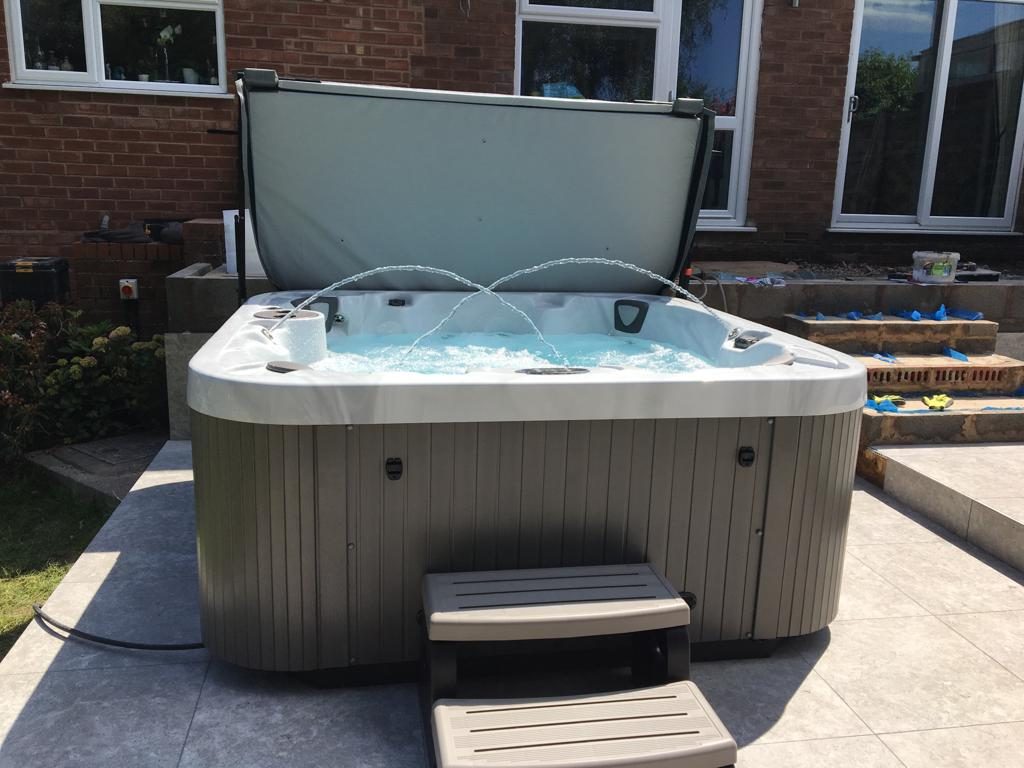 Don't get me wrong I love the social side of the Hot Tub but what was especially important to me was the wellness aspect and Coast Spas seemed to offer it all.  I had pretty much decided that I wanted a Coast Spa before I went shopping in store.

I visited Award Leisure Birmingham and met Simon. I was impressed with his product knowledge and decided to go ahead and order the Regency Prince. It is a large Hot tub and was the size and depth I wanted and had all the features that I needed. This included 50 jets, waterline lighting, music….it is fully loaded.

I felt that although I went over my initial budget, the Regency Prince is a cut above the rest and worth the extra, I felt that I got great quality at great value for money

So far I have used it nearly everyday and it has already made a huge difference to my quality of life with my shoulder and back problems.
So why choose the Regency Prince?
Regency Spas Prince 7 Person Hot Tub has been our best selling hot tub for 20 years. We guarantee that the Prince will be the perfect hot tub for all of the family because this all seated hot tub has a variety of seats for everyone, no matter how small or tall. With a combination of comfortable jacuzzi massage therapy seats and contoured hydrotherapy seating, you can relax, soothe aching muscles or party with family and friends by having your own hot tub jacuzzi at home. This Canadian hot tub is designed with 5 luxurious hydrotherapy seats and 2 higher cool down seats, each with a variation of carefully positioned powerful and very sophisticated massage jets. In particular, the 2 higher seats are perfect for the not so tall and make for very handy steps to get in and out of the hot tub.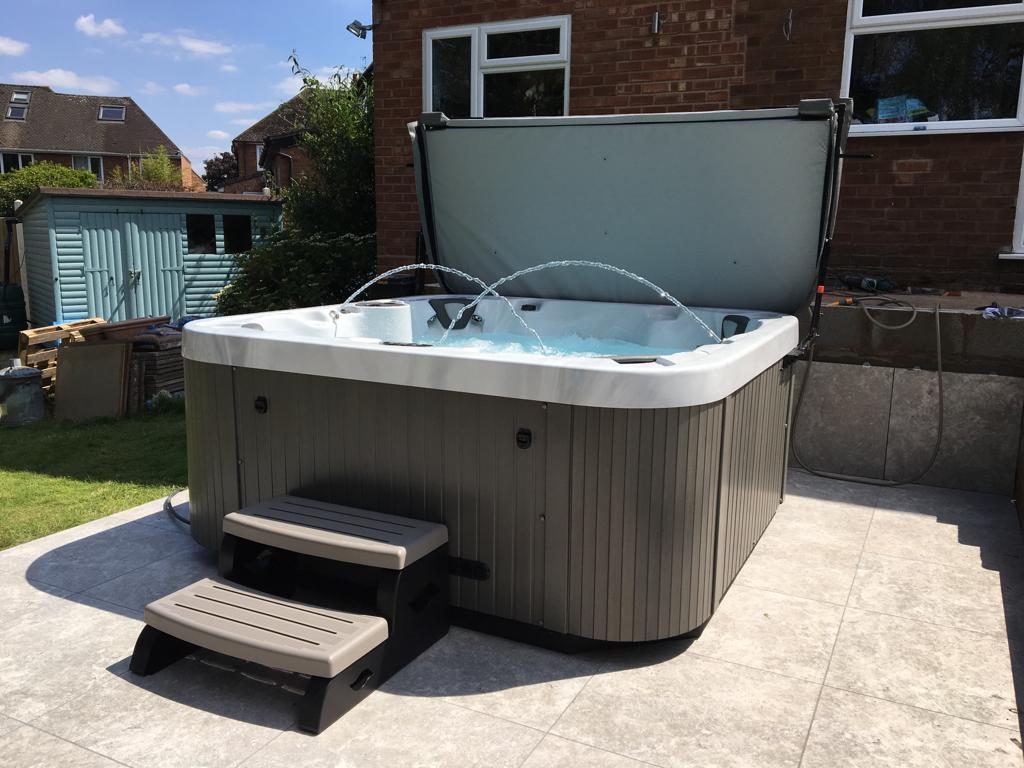 Everyone can choose their favourite seat and relax in the Prince party hot tub with either a unique and different hot tub massage per seat or by diverting the flow to a central fusion of water which creates a funky geezer in the centre of the hot tub. With the added bonus of drinks holders, the Prince is the ultimate in enjoying at home indulgence with best friends; we've created the perfect aquatic party booth complete with VIP treatment which delivers hydrotherapy excellence without having to leave your own home.
As with all of our hot tubs made in Canada for the Canadian climate, you can be assured of the best commercial grade hot tub filtration creating the cleanest hot tub water and a fully insulated hot tub with the lowest running costs. The award winning Prince hot tub with waterfalls and lights creates a luxurious bubbling ambience to be used as a perfect social hot tub for all of the family to enjoy as well as a discreet haven for individual relaxation and rejuvenation.
This spa boasts two underwater colour changing lights which make the spa look beautiful, especially at night. As well as drinks holders perfect for socialising, two rope waterfalls, plus plush head rests in each corner seat for total neck therapy. With a range of multi-level seating this spa is perfect for all shapes and sizes, allowing for wrap around massage, and the higher seats appealing to children and those who may want to cool down quickly. Comfort, appearance and quality are certainly not compromised.

Features
| | |
| --- | --- |
| 50 sq ft Pressurised Filtration | |
| Sterling Marble or Snow White Lucite Acrylic | |
| Regency Vinyl Synthetic Cabinet | |
| Reinforced Shell with Owens Corning Fibreglass | |
| Structural Foam Insulation | |
| Poly Moisture Protective Bottom | |
| Underwater Safety Light | |
| Anti-Slip Textured Floor | |
| Thermal 4 inch x 2 inch Heat Saver Cover | |
| Regency Waterfall/Grab Rail | |
| Carbon Fibre LED Control Panel | |
| 50 EXA SS Massage Jets | |
| 2 x 5BHP Super Flow Pumps | |
| Beverage Holders | |
| Multi-Level Seating | |
| Large Footwell | |
| Ergonomic Seating and Hydrotherapy | |
| Jet-Select Diverter System | |
| Jet Air Mixture Controls | |
| Luxury Pillows | |
| Neck Jets | |
| Programmable Filtration | |
| Oversized Monster Skimmer | |
| Freeze Protection | |
| Formed Equipment Enclosure | |
| Steel Reinforced Spa Acrylic | |
| Pressure Treated Frame | |
| Quick Access Gate Valves | |
| Titanium Heater | |
| Recessed Floor Drain | |
| Recessed Thread-In Jet-Pockets | |
| Super-Sealed Barb & Clamp Plumbing | |
| MADE IN CANADA | |
| Premium Shell Colour Upgrade – Whispering Winds or Crimson Night | OPTION |
| Cameo, Storm Cloud, Kalahari, Tuscan Sun, Midnight Canyon, Shell Colour Upgrade | OPTION |
| Regency Hand Made Cedar Cabinets | OPTION |
| Foam Core Cabinet Insulation | OPTION |
| Full Thermal Heat Management System | OPTION |
| Underwater LED Multi-Colour Light Upgrade | OPTION |
| Waterline Multicolour LED Gem Lighting Package | OPTION |
| O3 One Advanced Plasma Discharge Ozonator | OPTION |
| Self-Cleaning Frog/Bromine System | OPTION |
| Air Blower with 18 Stainless Steel Air Injector Jets | OPTION |
| Heated Blower with 18 Stainless Steel Air Injector Jets | OPTION |
| Aromatherapy Injector | OPTION |
| Bluetooth Stereo System with Subwoofer and Wallmounted Speakers | OPTION |
| Additional 2 Waterproof Flushmount Speakers | OPTION |
| Smartphone Remote Control Communication Module | OPTION |
| Smartphone Remote Control Compatible | OPTION |
| Cleaning canister 16inch long for 50sq ft Coast filter | OPTION |
| 50 sq ft Dual Core Filter | OPTION |
| Covermate I | OPTION |
| Hydraulic Cover Lifter | OPTION |
| Covermate Easy | OPTION |
| Spa Bar – Caddy | OPTION |
| Safe-T-Rail | OPTION |
| Spa Booster Seat | OPTION |
| 2 Tier Steps | OPTION |
| Delivery and Installation | OPTION |
Watch the video below to see the 50 jets on the Prince in action
We are currently offering a FREE upgrade package with the Prince worth £2385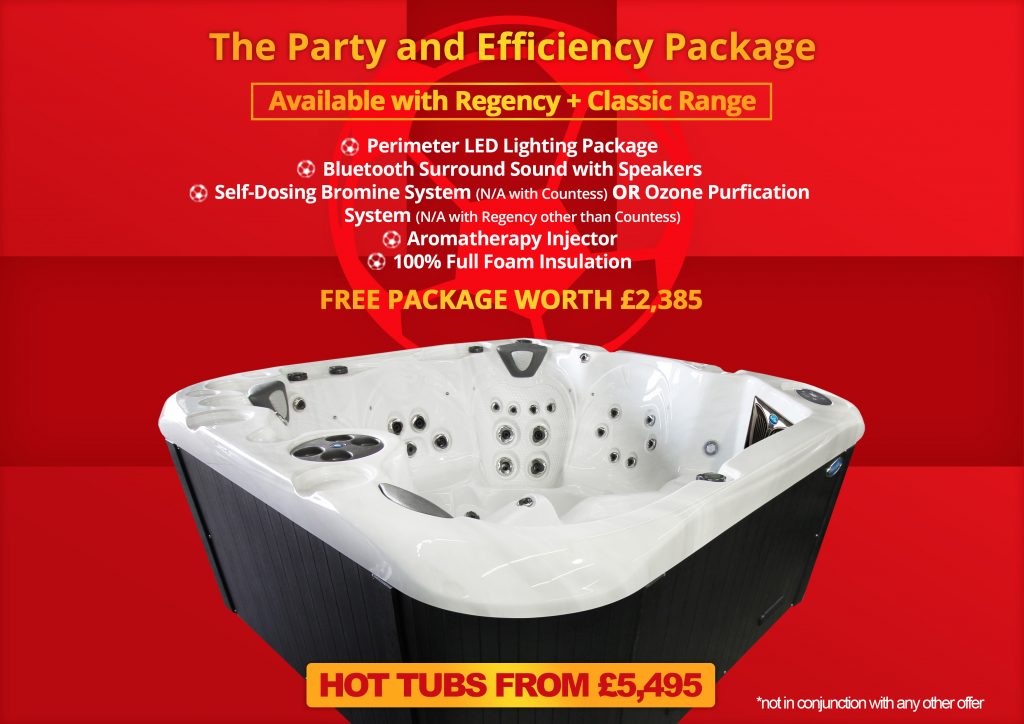 Find out more:
https://awardleisurebirmingham.co.uk/hot-tubs-regency-collection-prince.php#collapseFour